We asked Calvin Fletcher's Coffee Company owner Jeff Litsey eight questions about his experience with the wonderful world of Indianapolis coffee. Keep reading to find out about his in-house roasting process + go-to drink order.
How did growing up in the suburbs of Indianapolis influence your career?
So [before opening] I had done a lot of traveling, and I was learning a lot about the world, different people, different cultures. My goal was to translate some of the hospitality that I had experienced while abroad to everyone, no matter what they did or what they looked like.
How did you transition into wholesale?
When we first started, our goal was to roast for our own in-house needs, and we'd highlight our coffees here. Then, if wholesale comes along that's great, but I'm not going to doggedly pursue it. I think in our culture we feel like we should be growing exponentially all the time, and I think that for us that's not a healthy model. I want us to be really deliberate and thoughtful about what we're doing. 
How can more locals learn more about your history + support your business?
The easiest way to do that is to come in and hang out. I would say don't come and get something to go, come and get something for here and hangout — talk to us, learn, and become a regular.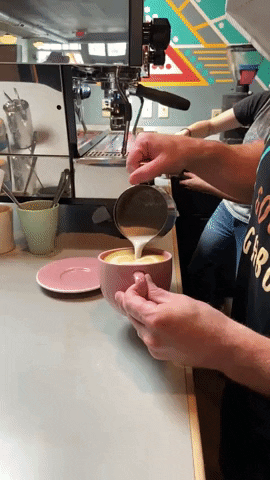 What's your favorite beverage that you offer?
My go-to is just a cappuccino — basically one part espresso, two parts steamed milk, with a nice microfoam. I don't drink the seasonal stuff very often, [but] the "Sunny" is probably one of my favorites.
What's your process for sourcing your coffee?
Over the years, we've learned about [roasters] that have good relationships with the growers, and then ones that are also just easy to work with. Some of my favorite coffees are from Rwanda, Ethiopia, and Colombia.
Tell me about when you knew you wanted to pursue coffee and cafe ownership as a profession?
[Calvin Fletchers] was my dad's vision. I didn't really know what I wanted from it, and that's evolved dramatically. At first, I just wanted to learn as much as I could and take it seriously with the coffee side of things, and I wanted to get to know my neighbors. Then, we pursued roasting, which was more me — my dad didn't want to do that, he wanted to man the ship — but I wanted to learn more.
What made you choose Fountain Square as home for Calvin Fletcher's?
We moved here, and it just made sense to start where we lived. We lived in Brownsburg, then when I graduated from college in 2006 my parents sold their house and moved to 14 and Penn downtown. Then I moved to Houston Texas, and then I came back and lived with them for a little while, and then we all moved to the [ Fountain Square] neighborhood in 2008.  
Is there anything else you would like to share?
Ultimately, coffee is about the people — we want everything we do to be filtered, if you will, through the lens of people. We want to buy coffee that supports growers, we want to make drinks that are great for our customers, and we want to extend a welcome to whoever comes in here.